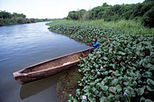 Black River Safari from Montego Bay
Day Trips & Excursions

Black River, the longest river in Jamaica, is a great place to explore remote mangrove swamps and to catch a glimpse of native species such as crocodiles living in their natural habitats. A typical Jamaican lunch is included before a refreshing swim in the YS Falls.
---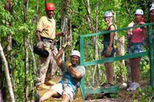 Canopy Tour
Outdoor Activities

You'll be swinging through the trees with the greatest of ease on this adrenaline-charged tour! Soar from one platform to the next amongst the tree-tops 45 feet (14 meters) above the ground! You'll feel like Tarzan or George of the Jungle as you ride through the canopy with the clear air all around you!
---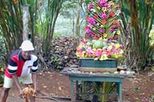 Croydon Plantation with Jamaican Lunch
Day Trips & Excursions

Come and experience a working Jamaican plantation! Croydon Plantation is nestled in the foothills of the Catadupa Mountains and you can sample the tropical fruits in season and enjoy a delicious Jamaican buffet surrounded by the lush green mountains of St. James. Book now for an unforgettable day in Jamaica!
---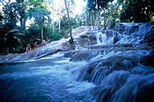 Dunns River Falls and Ocho Rios Shopping Tour
Day Trips & Excursions

A shopper's paradise and home to the world famous Dunns River Falls, Ocho Rios has become one of the most energetic cities in Jamaica. Leisurely browse through the town's many craft markets before venturing to Dunns River Falls cascading down 600 feet (180 meters) into the sea.
---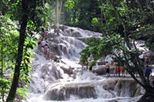 Greenwood Great House, Martha Brae Rafting and Dunns River Falls
Day Trips & Excursions

Located in the parish of St James is the Greenwood Great House of Jamaica. The house is a beautiful example of late 18th century architecture found in Jamaica and is one of the only houses to escape unscathed from the slave rebellion of 1831. You'll also take a trip down the Martha Brae on a bamboo raft as well as pay a visit to the world famous Dunns River Falls.
---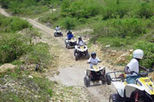 Jamaica ATV Off-Road Adventure to Sandy Bay or Rosehall
Outdoor Activities

Weave your way through a working citrus plantation while exploring one of three ATV sites! Try some traditional chicken jerk and sip on an ice cold beer! The perfect Jamaican experience!
---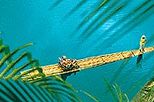 Jamaican Mountain Valley Rafting, St. James
Water Sports

If you are looking for a uniquely Jamaican experience, you'll enjoy a relaxing ride down the Great River aboard a 30 ft. (9 meter) bamboo raft built for two. Then tour Rhea's World mini-plantation where you may sample a variety of delicious liqueurs!
---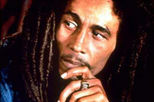 Jamaica's Spirit of Reggae - the Bob Marley Experience from Montego Bay
Cultural & Theme Tours

When one thinks of Jamaica (mon), you can't help but think of the King of Reggae, Bob Marley. Journey to the village of Nine Mile, where Bob lived, loved and played. Learn about the Rastafarian religion he practiced and made famous as well as seeing his final resting place. A moving tribute to a great musician!
---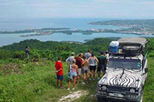 Jeep Safari
Outdoor Activities

Enjoy a rough and ready trip in a zebra striped four-wheel drive! You'll head west from Montego Bay/Negril to the islands interior and discover the beauty, culture and history of this amazing country. Complete your tour with a short walk along the river where you can cool off in the natural pools while discovering hidden waterfalls!
---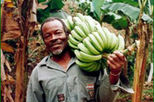 John's Hall Montego Bay Adventure Tour
Tours & Sightseeing

Come, see, live, love and laugh captures the true spirit and flavor of Jamaica! Journey into the majestic mountainous countryside, wild flowers, lazy rivers and discover true native living.
---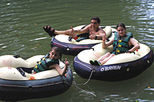 Jungle River Tubing Safari
Water Sports

With a combination of adrenaline, relaxation and water, this tour has it all! Start your adventure with a relaxing float through some of the most picturesque areas of Jamaica. Then it's on to the rapids which are just right for a fun-filled adventure. While being not too big and not too small, you'll want to ride them over and over again!
---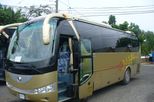 Montego Bay Roundtrip Airport Transfer
Transfers & Ground Transport

To make the most of your vacation, be sure to book round trip airport transfers and save both time and money! Get to and from your hotel comfortably and with the minimum of fuss and stress. Skip those long airport lines and head straight to your Montego Bay hotel!
---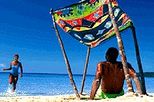 Negril Sunset Tour
Day Trips & Excursions

Drive to the west for an historical tour from the hotel to Negril where time stands still and a laid back attitude becomes a way of life.
---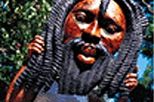 Scenic Tour of Kingston
Day Trips & Excursions

Visit Kingston, Jamaica's capital. Visit the Bob Marley museum, the University of the West Indies, the Governor General's residence and other fascinating attractions in the financial capital of the West Indies. Don't miss out!