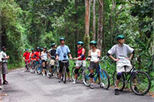 Blue Mountain Bicycle Tour
Walking & Biking Tours

This bicycle tour is a full day, all-inclusive, downhill riding tour throughout the Jamaican countryside. The enjoyable, 95% non-pedaling excursion is ideal for anyone who wishes to experience the dramatic Jamaican Blue Mountains, island culture and lush, tropical habitats. Enjoy the beautiful surrounds all while riding out in the fresh Jamaican air!
---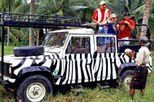 Bob Marley Jeep Safari from Ocho Rios
Cultural & Theme Tours

Come visit the birth place of the 'King of Reggae'! Nine Mile is both the birth place and final resting place of reggae legend Bob Marley. Listen to the knowledgeable guides tell stories of Bob's childhood! Stand on Mount Zion Rock, where Bob used to meditate and rest your head on 'the pillow' that was made famous in the song 'Talking Blues'! This tour is a must for all reggae fans!
---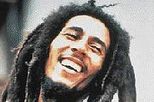 Bob Marley Reggae Explosion
Cultural & Theme Tours

Drive through the Jamaican countryside to the birth place of Bob Marley at Nine Miles. Take the chance to stand on Mt. Zion, where Bob meditated and get to see his final resting place. This tour will show you how a small nation like Jamaica created a genre of music that captivated the world.
---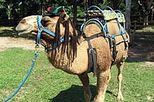 Camel Ride and Plantation Tour
Outdoor Activities

Prospect Plantation is an agricultural property established in the 18th Century. Take a tractor drawn Jitney and experience a working Jamaican plantation, where you will see bananas, cassava, sugar cane, coffee, various spices and many other crops! You will see the magnificent White River Gorge - a spectacular view. Jamaica's first hydro-electric power station was built here by Sir Harold Mitchell.
---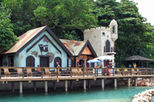 Entrance to Dolphin Cove at Treasure Reef
Sightseeing Tickets & Passes

Discover the secrets of the Jamaican pirates at Treasure Reef, a mini replica of Port Royal. See pirates roaming around and enjoy the many activities included in your admission pass! Treasure Reef offers a day of absolute fun, entertainment and extreme enjoyment for people of all ages!
---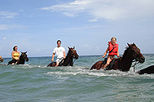 Heritage Beach Horse Ride
Outdoor Activities

Ride through the waves on horseback! Discover the rich history and culture of Jamaica as you ride on your beautiful horse through the wooded areas where the Taino Indians used to hunt for food. Stop off at the beach where you'll be served some refreshments in the shade of a beach hut before heading into the crystal clear water for a refreshing swim!
---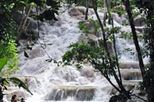 Irie Adventure
Day Trips & Excursions

Enjoy the offerings of two magnificent rivers in one day.
---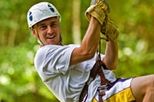 Jamaican Canopy Tour from Ocho Rios
Outdoor Activities

Fly like a bird through the trees and jungle canopy in Jamaica! Safely in your harness, you'll soar through a series of horizontal traverses. Enjoy a bird's eye view and marvel at the beautiful scenery from above! At some parts of the tour, you'll catch a glimpse of the Caribbean Sea. Your experienced and informed guides will ensure you learn everything possible about the surrounding areas!
---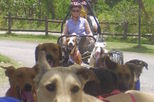 Jamaican Dogsled Tour
Outdoor Activities

Make the most of the Caribbean's fanastic weather on a unique dogsled tour from Ocho Rios. Enjoy the ride as your trusty dogsled team races through the Jamaican countryside with uncontainable energy and excitement - no snow required!
---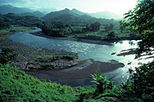 Kingston Day Trip from Ocho Rios with Bob Marley Museum
Day Trips & Excursions

Discover Jamaica's capital, Kingston, on a day trip from Ocho Rios. You'll enjoy an informative guided tour of the city and visit the famous Bob Marley Museum, highlighting the lasting musical legacy of the late great reggae master.
---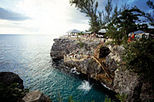 Negril Beach Tour from Ocho Rios
Day Trips & Excursions

Travel along the beautiful north coast via Montego Bay to the village of Negril, where time stands still and fun and relaxation is a way of life. Explore the seven miles (11km) of uninterrupted white sand beach and pick your own special spot to savor the sun and cast away all your inhibitions.
---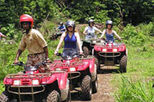 Ocho Rios ATV Safari
Outdoor Activities

This tour is packed full of adventure, excitement and adrenaline! Take a tour on a safe and fun ATV around Jamaica's scenic countryside! Discover the history of the area and explore beneath the jungle canopy! Take a refreshing swim in the Caribbean Sea and cool off before browsing through the gift shop!
---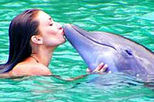 Ocho Rios Dolphin Encounter
Water Sports

This is a great Ocho Rios intermediate package where you swim in the deep for half an hour with one dolphin after an introduction and briefing from resident expert trainers. Experience for yourself the unique feeling of awe which dolphins inspire by their profound intelligence and beauty!
---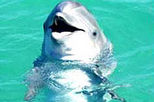 Ocho Rios Dolphin Touch Program
Water Sports

In this 20-minute program, children and adults alike, will enjoy the company of their new dolphin friends in Ocho Rios. Learn about dolphins in the educational introductory presentation then have an encounter with the dolphins from the security of the shallows. Being extremely sociable, they will enjoy your company, as you will theirs. Caress and touch the dolphins and view them up close!
---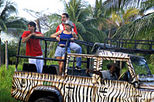 Ocho Rios Dunns River Jeep Safari
Outdoor Activities

Take a Jeep Safari in a Zebra striped jeep! Drive through the famous 'Fern Gully' and discover around 200 different types of ferns. Admire the view over Ocho Rios from Murphy's Hill and on a clear day, you might catch a glimpse of Cuba! Then its on to Dunn's River Falls where you can climb the 600 foot (180 meter) cascades!
---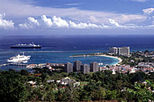 Ocho Rios Highlights Tour
Tours & Sightseeing

Shop 'til you drop! Take an extensive tour through the bustling streets of Ocho Rios and spend an afternoon exploring the town's many shopping arcades and craft markets. There's no better way to finish your day than by taking a refreshing climb up magnificent Dunns River Falls.
---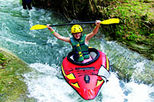 Ocho Rios White River Valley Kayak Tour
Water Sports

This kayak tour along the White River is an amazing chance to discover the breathtaking scenery and landscapes that Jamaica has to offer! Paddle your way through the rapids and the crystal clear pools under a canopy of lush tropical vegetation. Visit the Bamboo Cathedral where giant bamboo trees arch over the water, before entering the enchanting gardens of White River Valley!
---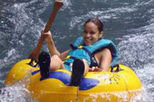 Ocho Rios White River Valley Tubing Safari
Water Sports

Discover the best kept secret in Jamaica! Take off on an exciting river tube ride along the White River where you'll be surrounded by beautiful scenery. You'll pass through coconut plantations, bamboo groves and see the locals in their riverside homes! Enjoy the challenging rapids as well as the enchanting and peaceful lagoons!
---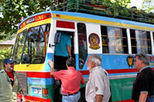 Ocho Rios Zion Bus Tour
Cultural & Theme Tours

A must for every reggae enthusiast! Take a ride on the 'Zion Bus' with your fellow reggae fans while your dreadlocked driver and guide tells tales of the life of Bob Marley. Stop off at a local Jerk Center for a traditional Jamaican lunch of jerk, rice, peas and other yummy treats!
---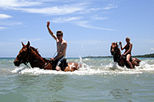 Private Heritage Beach Ride
Outdoor Activities

This private ride is tailored to suit the more experienced rider! Ride through the waves on horseback! Discover the rich history and culture of Jamaica as you ride on your beautiful horse through the wooded areas where the Taino Indians used to hunt for food. Stop off at the beach where you'll be served some refreshments in the shade of a beach hut before heading into the crystal clear water for a refreshing swim!
---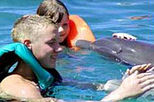 Swim with Dolphins Program in Ocho Rios
Water Sports

This Ocho Rios package brings you in close contact with the dolphins where you experience a one-to-one encounter as you swim and frolic with two friendly dolphins. You'll also see exciting birds, tropical fish, reptiles and amazing Jamaican plants as you take a gentle nature walk through lush, unspoiled tropical rainforest!
---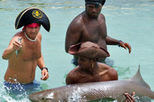 The Swim, Hold and Feed the Sharks Program
Water Sports

This rare opportunity to swim, feed and touch one of the most feared creatures of the sea. Treasure Reef has enough activities to keep you entertained for hours on end. There is no better way to spend a day in Jamaica!